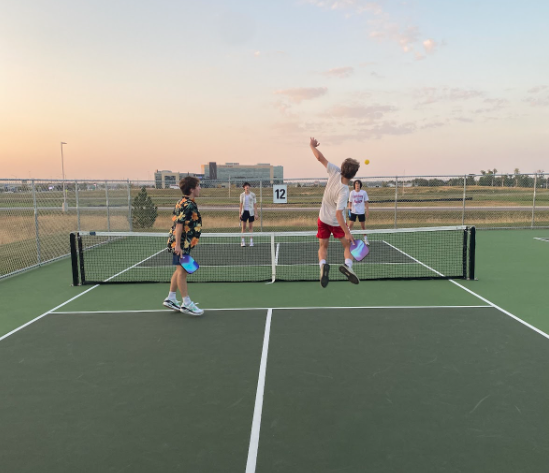 With the popularity of pickleball on the rise, there are now more than 36.5 million pickleball players in the U.S., with a 158.6% average growth rate over the last three years.
Thanks to the easy accessibility and high level of entertainment that pickleball has to offer for those at any skill level, it has become one of the most beloved sports of the year. Players' ages range anywhere from 10 to 65, give or take a couple of years, with the average player's age being around 35 years old.
Pickleball is a mix of ping pong, tennis and badminton, but instead of a racket, it is played with a large, ping pong-like paddle. Like the sports previously mentioned, the goal of pickleball is to hit the ball over the net until the opposing team can not return it.
The recent boom of pickleball should not be shocking because it has been a widely played sport among older folks, even in some retirement homes, for over 15 years. In 2023, many high school and college students have picked up this hobby due to it being one of the most accessible outlets for physical activity offered at such a low cost.
The sudden increase in popularity has even resulted in the formation of a pickleball club here at LHS, which welcomes players of all skill levels. The club consists of learning the origins and rules of the sport, along with playing together outside of school hours.
It is an extremely easy sport to get involved in; all it takes is a one-time purchase of paddles and balls which can be found at places like Amazon, Target and Walmart at very reasonable prices.
There are many outdoor courts that are free to the public in and around Sioux Falls including Laurel Oak Park, Linda Erickson Pickleball Complex and Riverdale Park.
Unfortunately, Sioux Falls does receive its fair share of cold weather, so outdoor playing time could be limited. Because of this, many players choose to play inside at places like First Christian Reformed Church, Gloria Dei Lutheran Church and Terry Redlin Elementary School, all for free.
Pickleball can even be played on tennis courts, like those at LHS, with a slight court-size adjustment. With over 10,000 places to play in the US, very few Americans struggle to find court space, although the game can really be played anywhere with a net on the ground.
Overall, the sport has had an amazing impact on all living generations, from Gen-Z to Baby Boomers. Not only is it a great way to get Americans out of their homes and in shape, no matter their age, but it also can assist people in finding new friends that they can enjoy playing with.