LHS sends a fond farewell to FJ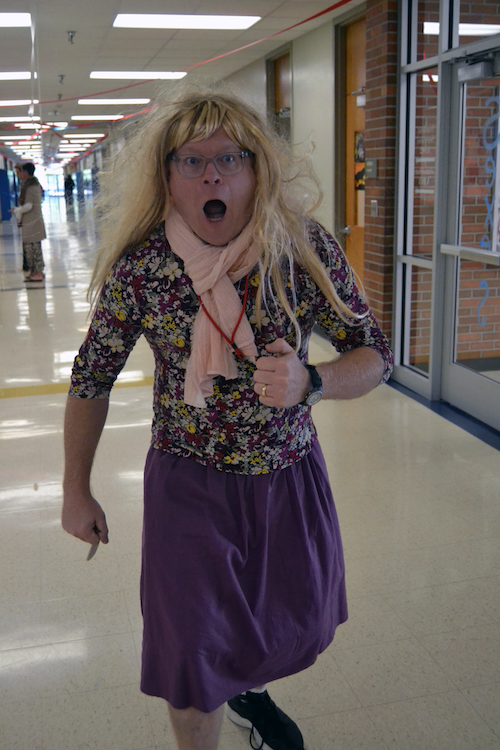 Every student who attended LHS from the years 2012 to 2018 has memories of the textbook room – the shelves, the carts, the computer and most importantly of all, the man behind the computer.
Russell Fjellinger, fondly known by the LHS population as 'Mr. FJ,' was the library textbook counter clerk, which is where most students may recognize him from. FJ, however, served many other roles within the school district prior to his clerical stint, including being a mailman and working with children with disabilities. A WHS graduate, FJ began working with children right after high school, while also pursuing a degree at USF.
"I started working… at a place called, at that point, which is very politically incorrect, Crippled Children's Hospital and School," said FJ. "They changed it to Children's Care Hospital and School[…] which is now changed to Lifescape[…] I worked with kids with disabilities, so that's kind of why I came to Lincoln to work with kids with disabilities 11 years ago."
FJ's next job was also in the education system, but with a new focus on children going through abuse situations.
"Then I kind of followed one of the kids that had behavioral issues[…] from Lifescape to Children's Home Society, which I think is still the same name," said FJ. "That's for kids that have abuse issues, either child abuse, sexual abuse, verbal abuse, that sort of thing. I worked there about six years."
Following his role in Children's Home Society, FJ moved to working in the Sioux Falls School District in the Bridges program, which serves at-risk kids in kindergarten through fifth grade that are not able to be in the classroom.
"I started in 1995 until 2002 – about seven years as a behavior specialist," said FJ. "I started as a behavioral specialist and came back as an educational assistant in the Cluster program or the RISE program. And then I came [to LHS] in 2012 in a clerical role, which is the library textbook clerk."
During all of this, FJ also worked Saturdays as a mailman, carrying mail mostly on rural routes in the South part of town. His career as a mailman, which lasted from 2008 to 2016, ties into his new role in the Sioux Falls school district. FJ's absence from the textbook room has been noted, but he is not gone without reason. FJ simply has a new role in the Sioux Falls School District, a role that started on Oct. 9.
"I just got a new position in the district, full time, year round," said FJ. "So I'm going to be doing that like interschool mail and I'm going to get a van or a truck and I'm going to be delivering things that you guys all need, that the whole district needs, whether it's boxes of paper or if there's some event going on, if they need the equipment out there, I'll be driving the equipment out there. I'm kind of excited to find out more about it, but that's generally what I'm going to be doing: deliveries."
Although FJ is thrilled to be serving the entire school district, he is going to miss being at LHS, and he is especially going to miss the students, from whom he has learned a lot.
"This is my classroom. [I'm going to miss] all the students, students in the RISE program, every student in every program," said FJ. "The students I'll miss the most. Staff I will also miss, very much. [LHS] taught me that every person is unique. Every person is special. We all have abilities; we all have abilities at different levels. I've learned to respect every individual. That's what LHS helped teach me, that's what my career taught me."
Author
Cathleen Weng, Editor-in-Chief
Cathleen Weng is a senior at LHS. As a third-year staff member of the Statesman, she has served in such roles as News Editor and one of four Co-Editor-in-Chiefs,...