And the winners are: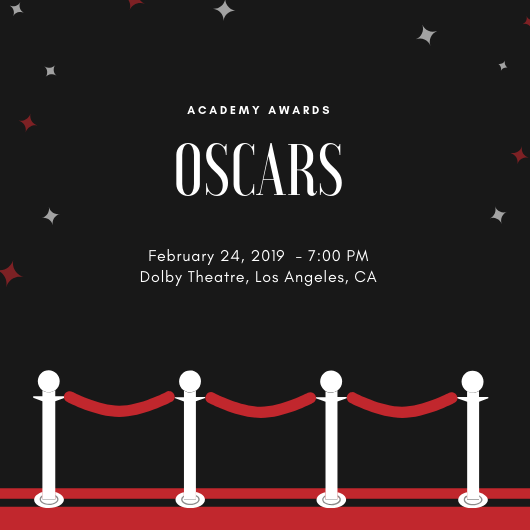 Hang on for a minute...we're trying to find some more stories you might like.
Tuesday, Jan. 22, nominees for the 91st Academy Awards Oscars were released.
Two movies seem to have potential Oscar wins under their belts, both leading with 10 nominations each: Alfonso Cuaron's captivating and tear-jerking "Roma" and notably, just as big a score for critics' talking point, Yorgos Lanthimos's bizarre comedy, "The Favourite."
The level of awareness to the #MeToo movement and the systemic racism in Hollywood seemed to be the subject of the 2018 Oscars. With the 2019 Oscars having no current host, no one knows that the Oscars may focus on, leaving viewers wondering if the 2019 Oscars will be as "controversial" as last year.
Best Picture:
"Black Panther"
"BlacKkKlansman"
"Bohemian Rhapsody"
"The Favourite"
"Green Book"
"Roma"
"A Star Is Born"
"Vice"
One of the categories that everyone is excited about the Oscars to reveal is this one. Out of all the movies listed, picking one would be a hard choice. According to
The Guardian,
the top three contenders for best picture are: "Roma", "Black Panther" and "Bohemian Rhapsody."
My top choice would be "Roma." This Netflix Original prodigy is first-ever best picture nomination and could make history as the first foreign-language movie to ever win a top prize at the Academy Awards. Alfonso Cuarón's portrait of his youth in the 1970s has perfectly had the power to be intimate, constant and monumental.
Directing:
"BlacKkKlansman," Spike Lee
"Cold War," Paweł Pawlikowski
"The Favourite," Yorgos Lanthimos
"Roma," Alfonso Cuarón
"Vice," Adam McKay
Spike Lee, working 30 years behind the camera finally lands an Oscar nomination.  His lack of admiration throughout Oscar nominations seems to be an oversight. For me, he is my personal choice on the directing nomination.  Lee's adaptation of the real-life story of Ron Stallworth, an American retired police officer who infiltrated the ranks of the Ku Klux Klan in Colorado Springs in the late 1970s, is filled with bursts of energy and artistic courage that seem Lee has been able to develop over his long career.
Best Animated Feature:
"Incredibles 2"
"Isle of Dogs"
"Mirai"
"Ralph Breaks the Internet"
"Spider-Man: Into the Spider-Verse"
Since it's release, Oscar talk has surrounded itself around "Spiderman: Into the Spider-Verse." Visually, it is unlike anything that has ever been done before. The intricate art style combines the genius comic book style and 3D animation techniques. The world of Spider-Verse, more than anything now, feels alive. There's such a sense of energy and inclusiveness that captures its audience. The 
The Oscars will be taking place Feb. 24, 2019, 7 p.m at the Dolby Theatre in Los Angeles.
For a full list of the 2019 Oscar nominations, click here:
Full list of nominees
Author
Yairis Alvarado, Staff Writer
Yairis Alvarado is senior and a first-year Statesman writer. She spends her time re-watching "Glee" and "Criminal Minds." She is in involved in...