Vision 2030: A new chapter for Augustana University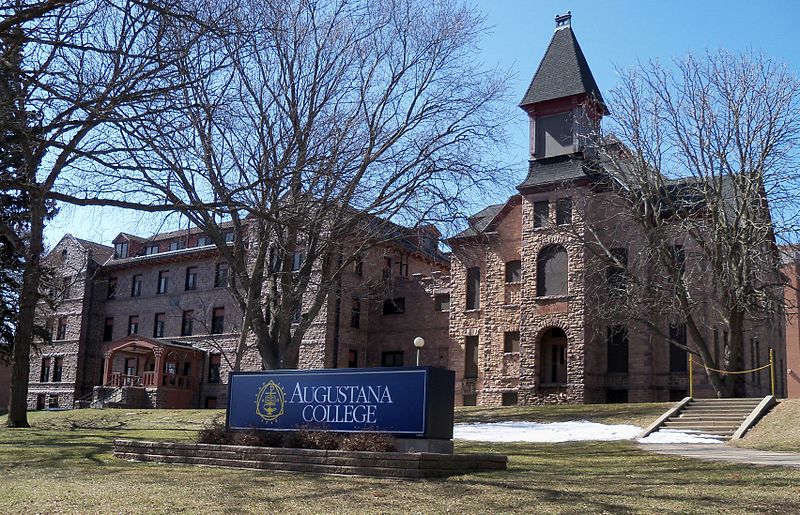 Bold, dynamic, appropriate: Vision 2030 promises to bring Augustana University and the city of Sioux Falls to a new level of competition.
Nearly a year of planning and research has gone into Vision 2030. It aims to incorporate new academic programs, expand the performing and visual arts, grow enrollment to at least 3,000 students, establish new scholarships that enhance affordability and diversity, transition Augustana to a Division I intercollegiate athletics conference and develop its physical campus. New degrees in areas such as health/sciences, business/industry and the performing and visual arts are being explored. Cited as a community campus project, both students and staff members have and will take part in the development of ideas and strategic process.
"Our sector in higher education is undergoing some pretty significant changes and there are a lot of disruptions in the marketplace right now, which makes it all the more important for colleges and universities to do what we are encouraging our students to do," said Augustana University president Stephanie Herseth Sandlin. "Which is to dream big… [and] to innovate, recognizing the circumstances around you, some of which you can control, some of which you can't, but leveraging strength and assets of your organization to adapt to the change around you and to best prepare students for the future."
As Vision 2030 moves out of early strategic planning into the next stage, Herseth Sandlin and the board of trustees aims to form steering committees and task forces composed of Augustana's current staff and students, who will work on planning for specific aspects of the university.
"[Vision 2030 has always been] a campus community project," said Herseth Sandlin. "We have a lot of long serving individuals at Augustana, whether in our faculty, or administrators, our support staff. We have a very engaged alumni base, many of whom are here in Sioux Falls, others throughout South Dakota, Minnesota, throughout the country, and I think that our board of trustees, as well as some of our former board of trustees, recognized that there is more potential to unleash at Augustana University, particularly because of the academic excellence reputation but also because of the unique location blessings of being located in Sioux Falls."
Herseth Sandlin cites Vision 2030 as a positive step forward for Augustana, better preparing it for the next century of higher education and better preparing students for a future after graduation.
"I also think the Vision 2030 reflects that we have always prepared servant leaders in our graduates," said Herseth Sandlin. "Our graduates go on to serve as leaders in science and health care, in business and education, government… Our mandate is to produce leaders who add value from day one in their workplaces and who serve their communities. I think that Vision 2030 reflects that legacy, but also clearly communicates that we are just as committed today and in the future as we have been in our past to preparing servant leaders to navigate change, to encounter and appreciate differences in backgrounds and beliefs that bring people together to strengthen communities and that show up to their workplaces every day and the community organizations of which they're a part, excited to solve problems and to collaborate and who recognize that their education at Augustana prepares them for a lifetime of career opportunities, not just their first job."
Additionally, Augustana provides opportunities for their existing staff and students to engage in campus improvement, whether it be helping to further Vision 2030 or taking advantage of Augustana's new programs.
"There'll be opportunities to add ideas, to bring passion, to bring energy to the table throughout this upcoming year, as we develop specific objectives and tactics toward milestone goals," said Herseth Sandlin. "There's a possibility that some of our students may be able to take advantage of those [new] graduate programs, whether they're four plus one programs, or a new master's degree offering in an area that they're currently studying… or just building on the expertise that our faculty have already developed over a number of years to help design those programs. We do want to look at not only our student to faculty ratio in the classroom, but make sure that students and faculty and administrators alike have the tools to develop through instructional design those type of hybrid and appropriate online opportunities that meet the high quality standards and academic rigor that Augustana is known for. Those are the types of opportunities both on the strategic planning process as well as in some of the being involved, either as students or faculty, in new degree programs that we hope to offer over the course of the next few years."
As the next wave of freshmen arrive at Augustana, Vision 2030 will be underway, meaning that they may notice some immediate changes to the campus community.
"I think one of the things that incoming freshmen will notice is just the kind of energy and enthusiasm that strategic planning and future goals generate in an organization," said Herseth Sandlin. "How we appropriately integrate technology into our experiences, how we strengthen a sense of community and a sense of place, whether it's right on our campus or in our broader community, whether it's in our alumni base or the city of Sioux Falls. I think that the talk of the future, of the planning, of what's around the corner, of the renovation of existing dorms, of the possibility of a new facility as we look to enhance the student union offering in the center part of campus. There'll be improvements to the physical campus that I hope that incoming freshman will be able to quite readily see when they arrive, but also the energy and enthusiasm that I mentioned, of upperclassmen that they will meet as part of their new community, as well as faculty, who will be deeply engaged in helping administrators and leadership assess what some of the new programs will be in Augustana's future."
Herseth Sandlin compels students not to let Augustana's tuition deter them from considering the university as a viable college option.
"I think it's important to understand that Augustana will partner with high school students and their parents and families to make an Augustana education affordable," said Herseth Sandlin. "Because of the generosity of our alumni base, we have over six hundred families that established endowed scholarships and we have the ability to offer merit scholarships more broadly and more generously than some of our counterparts that are public universities… Through our merit and talent scholarship, as well as the independent outside scholarships that talented students can leverage, we are very competitive when it comes to an annual net cost to attend Augustana as compared to other private and public universities in the region. I would just encourage if [possible applicants] are interested in Augustana's academic experience and programs, if they've heard good things from their friends or family or peers about Augustana, to not let anything that they may have heard about how much an Augustana education is to deter them in any way shape or form from coming to campus and exploring this with us because we have partnered successfully with countless students and families to make an Augustana education accessible and affordable."
Author
Cathleen Weng, Editor-in-Chief
Cathleen Weng is a senior at LHS. As a third-year staff member of the Statesman, she has served in such roles as News Editor and one of four Co-Editor-in-Chiefs,...