The end of an NBA era: Nowitzki and Wade call it quits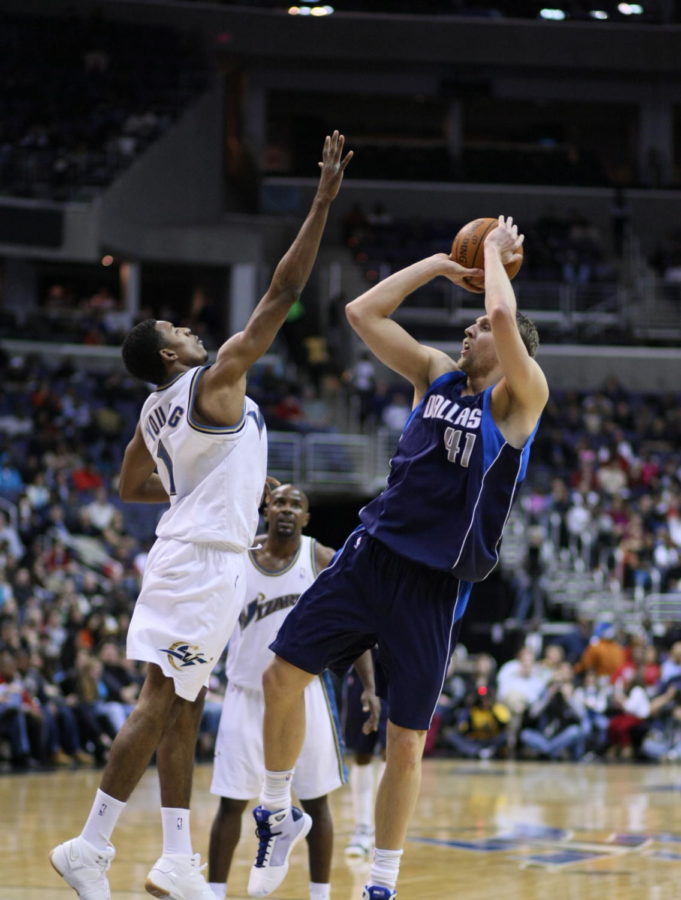 It is the end of an era in the NBA as two icons of the game, Dwyane Wade and Dirk Nowitzki are retiring. This means it is time to rewind and look back at some of the great moments of the illustrious careers of the two legends.
The 40-year-old power forward, Nowitzki was drafted as the ninth pick to the Milwaukee Bucks in 1998 where he was then immediately traded to the Dallas Mavericks. Nowitzki was able to call Dallas home during his now 20-year career. Currently, "the German Jesus" has racked up over 31,000 points, 11,000 rebounds, 3,600 assists and 1,200 blocks according to Basketball Reference. With a career stat line this brilliant, it is no wonder why Nowitzki is considered one of the best power forwards in NBA history. Nowitzki's "Dirk shot" has also become one of the game's iconic shots as it is essentially a fadeaway where Nowitzki leans back, uses his height to his advantage, shoots and seemingly scores every time.
"I came up with a shot where I just have to basically lean back, don't be athletic at all and just hoist it up," said Nowitzki according to Business Insider. "I came up with my own 'Dream Shake' I guess — the white version."
Nowitzki's greatest career accomplishment is not his incredible shot, his 14 NBA All-Star selections or his NBA MVP award in 2007; it is winning the 2011 NBA Finals over Wade's Miami Heat. Nowitzki and the Mavericks were underdogs heading into the series, playing against a Heat team that featured LeBron James and Chris Bosh alongside Wade. After getting down quickly 2-1 in the series, Nowitzki was able to rally his team in Miami with a game-winning layup in game four that sparked his team to win games five and six. Nowitzki helped the Mavericks claim their first title in franchise history and his performance in the series gained him Finals MVP honors.
Although Nowitzki was able to get the upper hand on Wade in the 2011 Finals, Wade has three NBA Championships to his name. In 2006, a Wade-led Heat was able to defeat Nowitzki's Mavericks in six games. For his performance in 2006, Wade was awarded Finals MVP in the series, averaging 35 ppg with a high game total of 43. In 2012, Wade and the Heat, stacked with James and Bosh were able to defeat the Oklahoma City Thunder in five games. In the 2012 series, Wade averaged 22 ppg. In Wade's Final Championship of his career in 2013, the Heat and their "big three" were able to sneak past the San Antonio Spurs in a game seven which was made possible by a Ray Allen three-pointer late in game six.
In total, Wade has been selected to 13 NBA All-Star teams, was named the All-Star game MVP in 2010 and has consistently found himself on All-NBA teams. The Heat legend has also has appeared on the Chicago Bulls and Cleveland Cavaliers during his career but has totaled most of his 23,000 points, 4,900 rebounds, 5,600 assists and 1,600 steals with the Heat according to Basketball Reference. Although Wade has played only 15 seasons in comparison to Nowitzki's 20 seasons, he has decided to hang it up.
Throughout their farewell seasons, Nowitzki and Wade have taken different approaches to their retirement. Nowitzki has remained quiet about his plans to retire because he does not want a "retirement tour," whereas Wade has been more open about his plans, capping every game with an honorary jersey swap with a player from the opposing team. The two are different in many ways but signify the end to an era and the beginning of a new, younger generation of NBA talent.
Author
Landon DeBoer, Sports Editor
Landon DeBoer, one of the Statesman's Sports editors, is a senior and a third-year staff writer. When Landon is not writing stories, he enjoys playing...