World language students travel the world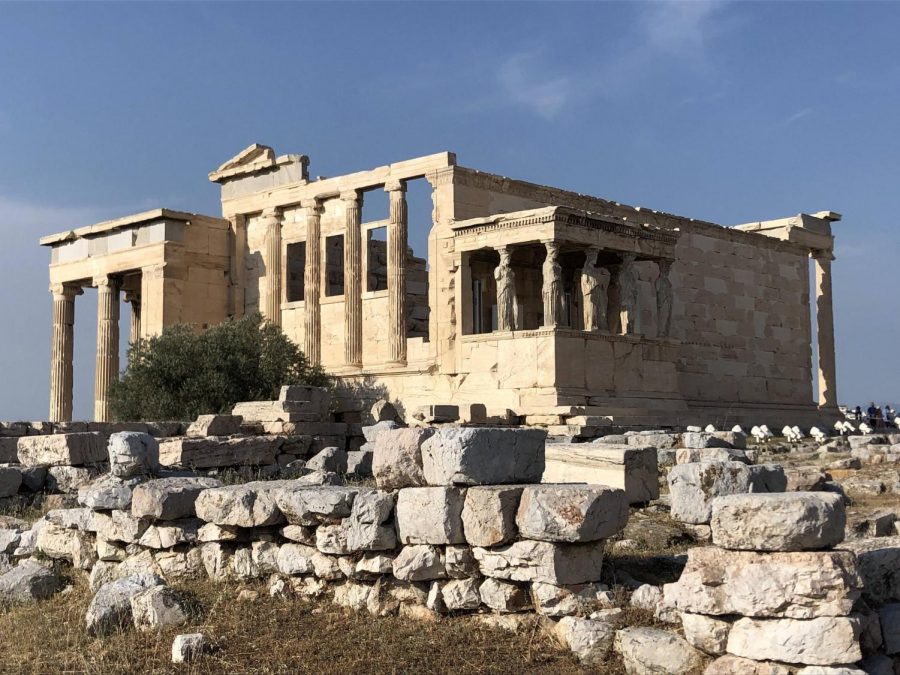 From Greece to Germany, LHS world language students took to the skies over the summer to visit and learn about dialect and culture all over Europe. 
Although LHS is no stranger to travel, each trip is a uniquely engaging experience for the students who go and the teachers who chaperone them. German teacher Saskia Edwards takes her students to Germany, Spanish teacher Kristi Oros takes her students to Spain, Latin teacher Lynn Thomason alternates between Greece and Italy for her trips and the previous French teacher Florence Thompson took her students to France.
The Germany trip featured a plethora of cities and sites, such as the Berlin Wall, Munich, Frankfurt, a concentration camp, castles and even a German school. Edwards, on her second trip with LHS students, enjoyed being able to immerse her students in the locations they'd learned about in class.
"[My favorite part of the trip was] bonding with students, showing students what we talked about in class, eating German food [and] going to a lot of castles," said Edwards.
The Spanish trip to Spain went to Madrid, Toledo, Granada, Seville, Ronda, Cordoba, Malaga and the Mediterranean Sea, not to mention they saw places like Alhambra, the remains of Christopher Columbus in the Seville Cathedral, the oldest bullfighting ring and architecture from the 1992 Seville World Fair. They were also able to attend a bullfight and learn about the importance of the bullfight. Additionally, as Oros most appreciated, the holiday of Corpus Christi, or the Blood of Christi, a religious holiday observed by cathedrals in Spain, was being celebrated while they were there. 
"It was Corpus Christie while were there, so we were able to see a procession and just able to participate in an important cultural event, an important religious holiday for them," said Oros. "I [also] enjoyed that our whole group had dinner together every night and we just sat and talked about everything we had seen and done."
The Latin trip to Greece took students to Athens, Delphi, Meteora and Thessaloniki, not to mention a full day cruise on the Saronic Gulf, complete with island stops and the Mediterranean beach. There, they saw historical sites such as the Acropolis, the Parthenon and the Temple of Poseidon. The standout location for Thomasson was Philip of Macedon's tomb in Vergina, which was an unbelievable experience for her. However, what made the trip truly special for her was student reactions to their surroundings.
"Watching the students' faces is truly one of my favorite parts [of the trip]," said Thomason. "When we've talked about something for four years or seen pictures of something, to actually be there and to watch their faces as they experience that is really very special. Also I try to do something new on every itinerary and so everything we did north of Delphi this time was new to me and I was just enthralled with it."
The trip to France included cities like Paris, Nice, Nimes and Monaco, not to mention St. Louis and other smaller destinations. The French students also visited sites like the Eiffel Tower, Napoleon Bonaparte's tomb and Pere Lachaise cemetery. The travelers were even able to have dinner at the houses of French locals, which helped them learn a lot about French culture. Senior Haley Leisenger not only thoroughly enjoyed the trip but also found that her fluency in French drastically improved. Despite the many places they visited, there were two standout cities.
"I really enjoyed going to Nice and Nimes because during that time they were having a festival thing going on," said Leisenger. "So, at night we would walk through the festivities and there would be live concerts all down the streets and it was just a lot of fun."
The world language classes take trips every two years, so if that sounds like an experience you want to have, make sure to sign up for a world language class.
Author
Cathleen Weng, Editor-in-Chief
Cathleen Weng is a senior at LHS. As a third-year staff member of the Statesman, she has served in such roles as News Editor and one of four Co-Editor-in-Chiefs,...