Putin's hidden agenda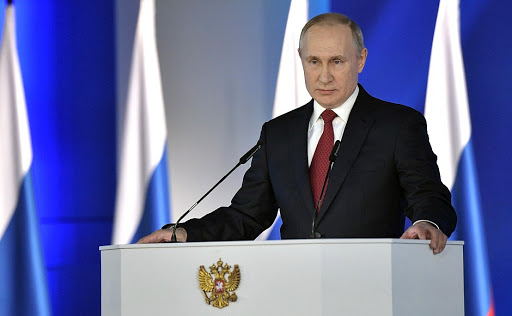 On Jan. 15, 2020, Russian President Vladimir Putin took to the stand for the annual federal assembly. Little did the public know that later that evening Russia's governing body would vanish. 
Putin began the assembly by discussing the diversification of socio-economic funding for education, lower income child needs and job training. He then moved on to address the upcoming end to his presidential term in 2024. He continued on to say he will oblige to the two-term limit and intends to hold himself and the future president to that standard. Putin staying in office after 2024 is off the table, but the likelihood of him holding power behind closed doors after his address is more possible than most imagine. 
Putin's first proposition was to give The State Duma, the lower house of the federal assembly, the power to appoint the prime minister and members of the cabinet. This constitutional change ensures that the next president will face far more restraint compared to Putin. Giving the State Duma more power will also contradict allegations of the Duma not playing as dominant of a role as needed and ultimately make legislative elections more consequential. 
Putin went on to say that in the future the state council should act as a presidential advisory within the executive branch. Some specialists believe this alteration to the constitution is being made for a direct route for Putin to remain in power. It is believed that Putin will move over to lead the state council, which, after 2024, will be more powerful than the president. This allows Putin to essentially stay in power. Putin also raised the issue of Russian federalism, specifically addressing the relationship between zone 83 and the central region. Putin said that the size of Russia, "cannot […] even exist sustainably as a parliamentary republic," and called for, "a unified system of public authority," across the country. With that, Putin's annual federal assembly came to a close, but that was only the beginning of the turmoil. 
Following the federal assembly, Medvedev, the Prime Minister of eight years,  announced his and the entire cabinet's resignation. 
"We as the government should allow our country's president to make all necessary decisions before that," said Medvedev.
The main takeaway from the government step down is that it created a direct way for Putin to make these constitutional changes with no potential blocking. Overall, the upcoming constitutional changes will weaken the upcoming president's power. When Putin steps down in 2024, which he most likely will, he will take the lead power of the executive branch through the state council. This will allow for Putin's hidden agenda to maintain power past the end of his presidential term. 
Author
Abbie DeKramer, Staff Writer
Abbie DeKramer is a junior and first year staff writer for the Statesman. Aside from writing for Statesman, DeKramer is Vice President of competition for...