Raveling takes on TikTok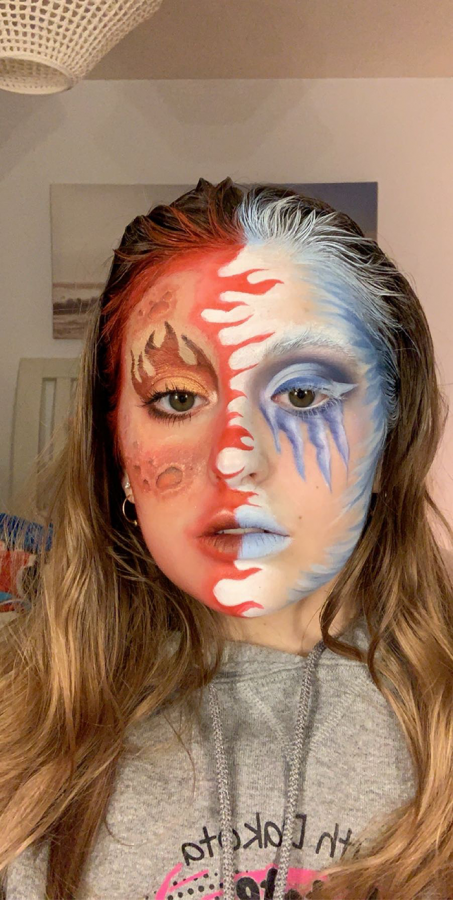 When junior Tori Raveling first began to make TikToks a couple of months ago, there was no way she could have predicted what would happen.
On Dec. 31, Raveling decided to follow a trend that had been floating around TikTok, in which people would utilize a sound with audio from the "Snow & Heat Miser" song and create a makeup look inspired by it – one-half snow, one-half heat. She had not thought much of posting the video, which she had created just for fun, until suddenly her phone started blowing up with notifications. Seemingly overnight, the video had garnered attention from millions of people, catapulting her into TikTok fame.
"It was insane," said Raveling. "I was in shock. It was sensational, kind of, because I didn't expect that…I'm really happy, because I've been doing makeup for a long time, and it's nice to get that recognition, but it's also stressful and I don't know what I'm going to post next."
The other videos on Raveling's account mostly feature her doing other makeup looks, usually of her own invention. They are also accumulating more attention, but none more so than the one depicting her "Snow & Heat Miser" look.
"When I film my makeup, I usually just pick a song that I really like. There's a lot of really good music on TikTok, and then I just start recording," said Raveling. "For the one that got famous, it was a trend, but for other ones, I just have some fun and mess around."
So far, Raveling has received a lot of positive feedback, both from other TikTokers and within the comments of her own TikTok. 
"It's been really fun," said Raveling. "There's been a lot of really popular [TikTokers] following me back and some people reaching out, asking me to promote their TikTok sounds and stuff…Some [comments] pointing out the little details I did with my makeup are really nice. And then there's a lot [of comments] where they said [my TikTok] is their first video watching of 2020, and I don't know, it just made my heart happy."
Author
Cathleen Weng, Editor-in-Chief
Cathleen Weng is a senior at LHS. As a third-year staff member of the Statesman, she has served in such roles as News Editor and one of four Co-Editor-in-Chiefs,...