Sioux Falls Women's March carries on despite Saturday morning snow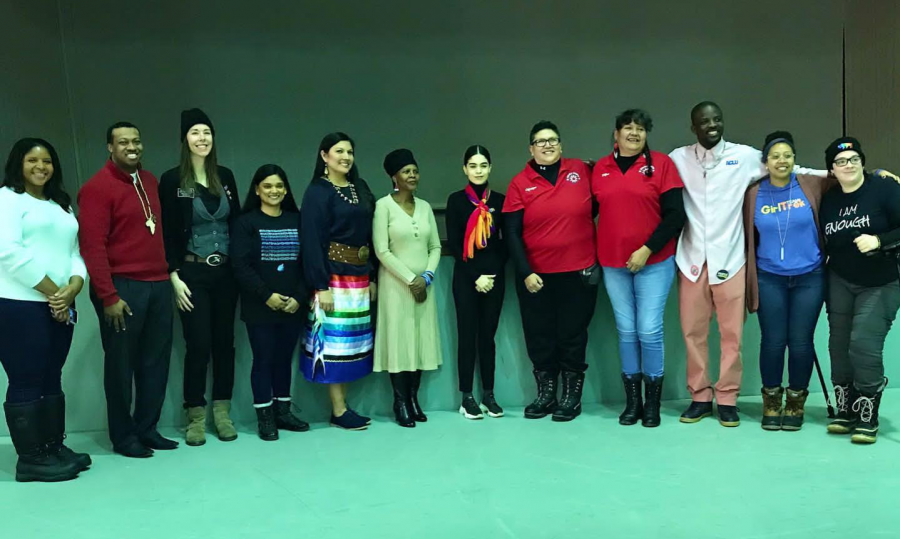 The 2020 Women's March brought in a smaller crowd internationally as the main march in Washington, D.C. and its many sister marches held their fourth annual protest. The first Women's March took place on Jan. 21 2017, the day after President Trump was inaugurated as a show of progressive solidarity to women and has continued to happen the third Saturday of January. 
On a local scale, demonstrators gathered at the Sioux Falls Multicultural Center on Jan. 18 to hear an array of speakers and show support for the feminist movement. The march was to include nine speakers as well as a march to City Hall. However, after a forecast of a snow storm the march changed to an all-indoor rally.
About 100 participants arrived Saturday morning and while the group may have been small, their enthusiasm was not. Participants rallied around the national theme of "Women Rising" with home-made "women support women" and "Make America Kind Again" signs in tow, despite the bitter one-degree temperature. 
Representative Kelly Sullivan took the stage to tell her story of running for state office as a progressive woman in a state with politics often dominated by conservative policymakers. 
"My passion has grown [since taking office], and I'm willing to fight for issues that matter to all of South Dakota," said Sullivan. 
Sullivan specifically called viewers to action on a new controversial bill that would bar doctors from prescribing gender-affirming hormones and performing affirming surgeries to minors by making the actions a class four felony.
"Bill HB1057 is a bill that is targeting our transgender youth; it is not meant for South Dakota, we do not need laws that are targetting one of the most vulnerable groups in our communities. We need you to engage with the legislature as citizens so that it does not pass. Please stay engaged," said Sullivan.
The annual women's march is a recently born tradition that reminds many of the strength in organizing and vocalizing issues in today's society. Whether local or international, these protestors make their voices heard.
Author
Jazlyn White, Staff Writer
LHS junior Jazlyn White is a second-year staff writer for the Statesman. She is involved in DECA, speech, debate and golf. She serves as one of the Vice...