P.S. not what we hoped for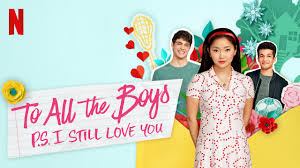 On Feb. 12, 2020, the sequel to "To All the Boys I've Loved Before," "To All the Boys: P.S. I Still Love You" was released to anxiously awaiting fans. Having been almost a year and a half since the previous movie had been released, people all across the world could be seen snuggling into their favorite blanket while laying on the couch watching the newest Netflix original. 
In August of 2018, "To All the Boys I've Loved Before," based on Jenny Han's novel, produced by Jordan Levin, was added to Netflix's list of originals. It was an instant hit among teenage girls who were able to watch Lara Jean Song Covey, played by Lana Condor, and Peter Kavinsky, played by Noah Centineo, share little moments as their fake relationship grew to much more. This teen romance movie contained the perfect balance of dramatic, over-the-top scenes mixed with moments that would bring viewers back to reality. On the contrary, the sequel to this fan-favorite lacked the special moments between Covey and Kavinsky that all fans were dying to see more of. 
This movie picks up right where the previous one left off, as Covey and Kavinsky end their fake relationship to start a real one. Like any normal relationship, these two go through their ups and downs together as they discover how their relationship really started. With a newcomer named John Ambrose McClaren, played by Jordan Fisher, who also received one of the infamous love letters, the pot between these three life-long friends begins to simmer. At times in this film, the balance between these character's personalities does not seem quite right. In one scene, Kavinsky is portrayed as much more of a jerk than usual, while McClaren seems a little too nice. As Covey manages to navigate through this love triangle, it is apparent that this film is also intent on inserting as much drama as possible, that it forgets to document the growth of Covey and Kavinsky's actual relationship. 
"To All the Boys: P.S. I Still Love You" is just a different chapter of the same book documenting Covey and Kavinsky's growth as high school students and as a couple. It takes more of a "high school version" approach of relationships, which allows the viewers to be able to truly connect to the content of the film. Despite this movie being saturated with scenes that appear to be trying too hard, it is a perfectly fine way to relax and unwind. 
Author
Avery Nelson, Staff Writer
Avery Nelson is a sophomore and a first-year staff writer on the Statesman. When she is not writing for the Statesman, she spends most of her time playing...