The dangers of nail polish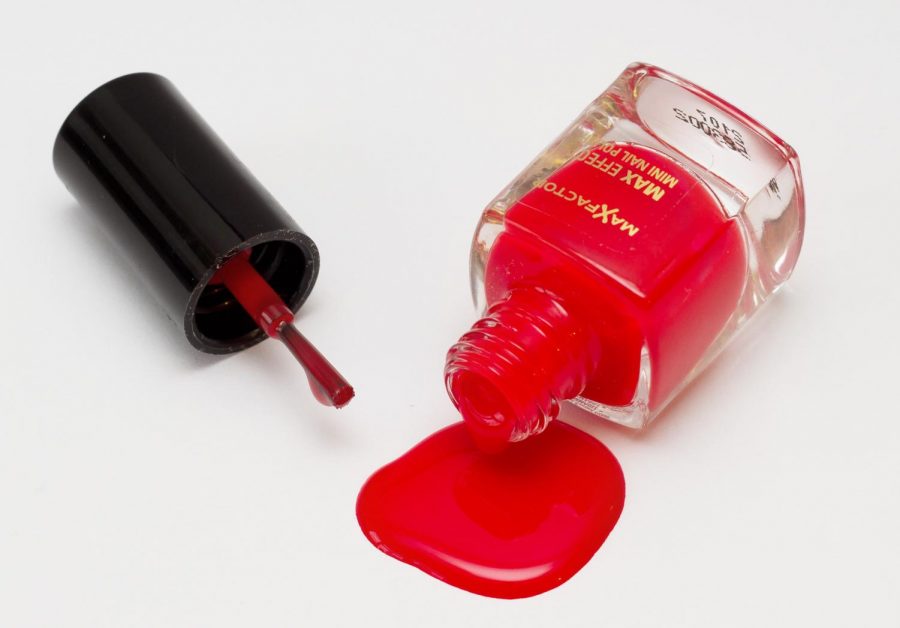 The hard truth is that the seemingly harmless nail polish sitting in your cupboard might be one of the most dangerous chemicals in your entire house. 
As the U.S. has reduced regulations on the chemicals within cosmetology products, companies can take an easier and cheaper way out while harming their users. Most of the time the more profitable way is using chemicals that are toxic and tend to cause health implications. 
The hidden chemicals within nail polish consist of cancer-causing compounds such as Formaldehyde, Toluene, Dibutyl Phthalate and Triphenyl Phosphate. Toluene is a chemical commonly used as a solvent for smoothness and to keep the pigment from separating in the bottle. This chemical is used in gasoline and is known for affecting the central nervous system and reproductive system when absorbed in the body. Formaldehyde is a carcinogen that has been found to cause cancer, asthma and an increase in allergies. This chemical is used in nail polish to keep it from hardening while in the bottle. Dibutyl Phthalate is added into nail polish to improve its flexibility, but through the years has been linked to causing reproductive problems. One of the most dangerous chemicals in nail polish is Triphenyl Phosphate otherwise known as TPP. Companies add it into products to make them less flammable and to create a polish that sticks harder to the nail. TPP in some cases is fatal and causes a range of problems from allergies to liver and kidney failure. 
There are two key reasons as to why the chemicals in nail polishes affect our bodies. The first reason is that nail salons have poor ventilation- creating continuous exposure for the worker and short term exposure to the customer. Secondly, these chemicals can be absorbed through the nail itself. This form of consumption is what affects most of the population concerning absorbing these toxic chemicals. A study led by Duke University revealed that our body absorbs these chemicals in nail polish; this result was found through a urine metabolizing study. 
The study isolated two groups; the first group got a regular manicure with nail polish applied directly to the nail, and the second had nail polish applied onto fake nails. The study consisted of using nail polish with about one percent of TPP by weight. When the body metabolizes TPP it creates a chemical known as DPHP. The chemical DPHP is what was tested for within the urine of both groups. In the first group of individuals who had had their nail polish applied directly to their nail experiences a sharp increase of DHPH in their urine. In the controlled group who did not have nail polish directly applied to their nails also did not see DPHP in their urine. This study confirmed that the chemicals we put on our nails are metabolized within our bodies. 
A large reason why this can continue is the lack of regulatory oversight. Of the 10,000 chemical ingredients in nail polish, only 10 percent have been assessed for safety. The U.S. Food and Drug Administration is responsible for this oversight but cannot federally mandate and regulate the ingredients used by companies. More than likely the nail polish you and potentially your children use have never been tested for safety. Although, there is a rising awareness within health organizations, the awareness within the American public is lacking. 
Safe brands
Pacifica 7-Free Nail Polish Collection

ZONYA

Sundays Nail Polish

Cote Nail Polish

Butter London

Smith & Cult

Essie

Piggy Paint

AILA

Deborah Lipman Gel lab

Tenovertan

JINsoon Nail Lacquer
Overall, it is important to pay attention to what is going in and on your body; including your nails. Especially when the consumption of these chemicals can cause a wide variety of health problems ranging from skin irritations, eye injuries, allergic reactions, cognitive and neurological symptoms, nausea, respiratory problems, cancer and uncontrollable muscle contractions to impaired reproductive and development processes. Next time you buy your nail polish check the ingredient label to avoid Formaldehyde, Toluene, Dibutyl Phthalate and Triphenyl Phosphate (TPP).
Author
Abbie DeKramer, News Editor
Abbie DeKramer is a Senior and second year staff writer for the Statesman; she enjoys writing opinion pieces and news articles. Aside from writing for...