A day in the life: Working during the coronavirus outbreak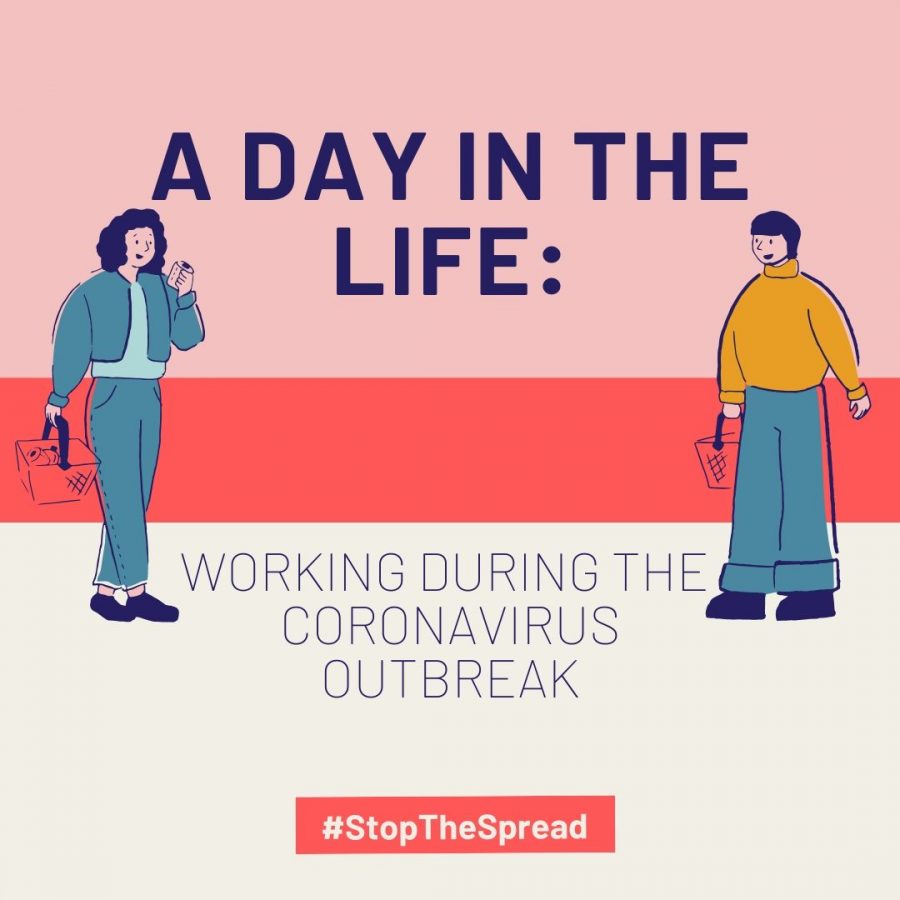 Most students are staying at home and hopefully practicing social distancing. I, on the other hand, have been working every day of this "break." I work at a senior living community in the dining services department where it is our job to ensure that every independent living resident receives their meals during this time. 
Since the outbreak, we have closed our restaurant-style dining room and have switched to a room delivery system. In order to accomplish this, my coworkers and I have picked up extra shifts to clean, plan and put our plans into action to ensure that the residents still have a positive dining experience and can have some sort of "normalcy" during this time of constant change. Our residents are understandably nervous about contracting the virus, as they are at an increased risk, so we are taking extra precautions throughout the whole building to limit possible exposure to the virus and prevent the spread of it in our community. As we are shifting to a new "normal" for the time being, here is what my days have looked like since taking a break from life at LHS:
Mornings:
Before we started online classes, I would spend my mornings at work. Last week, we were developing our plan for switching to room tray delivery, so I spent my mornings in meetings or helping out where I could so that way when we did switch, it would be a smooth transition. I also picked up extra hours working in our bistro and also deep cleaning our kitchens and dining room with a few of my coworkers.
Now that we have started school online this week, I spend my mornings working on school work for my classes. I have never been one who has been able to do work at home, so not being able to go to a coffee shop and get away has been pretty tough for me. Nevertheless, I sit on my couch, turn on a Netflix show and get to work on what I have to get accomplished for the morning. I am a huge procrastinator, so getting my school work done first thing in the morning has definitely helped me to be more productive.
Afternoons:
Our residents are temporarily no longer able to have guests come in and visit them. So, most of them have turned to FaceTime, Skype or Zoom to connect with their friends and family outside of the building. But, most of them have not used this technology before so it is difficult for them to set it up and learn how to use it. A couple of my coworkers and I have gone around and helped set these apps up for residents on their phones, tablets and computers before we go in for our shift.
I typically start my shift between 3 and 3:30 p.m. Once there, my coworker Mia and I start getting everything prepped for the evening. We assign jobs to the others who are coming in and start getting our carts prepped for the evenings. It is a lot more work now that we have to load all of our drinks, salads, entrees, etc. onto carts to push around to each of the apartments. We have three floors and each floor has three wings of apartments. This means that each night we go door to door serving around 100 residents. It is a major difference from waiting on tables at night, as the work then was more evenly spread out and we were able to serve more residents at one time. However, it has also allowed me to get to know more residents and have more one-on-one conversations from the hallway.
Nights:
After I get off, I go home and finish any homework I may have left from the day. Spreading it out a little bit helps, but I do try and get most of it done in the morning so I am not stuck with a ton at night. If I am done with homework, my family and I will turn on a show that we have been watching or watch a movie together. Sometimes we will go on a walk or out for a drive around town (not getting out of our car) as an opportunity for my mom and siblings to get out of the house. 
Although this time has been filled with many changes and cancellations, I feel lucky that I can still go to work. I miss my friends, going to school and all of the events and trips I had planned, but I am grateful that I have an opportunity to leave the house and help people during this time. While this has been a nice change of pace, I am ready for everything to return to normal.
Author
Genna Sheriff, Editor-in-Chief
Genna Sheriff is a senior at LHS and one of four Co-Editors-in-Chief of the Statesman. Along with writing for the Statesman, she is involved in other activities...