Dreams come true on virtual draft day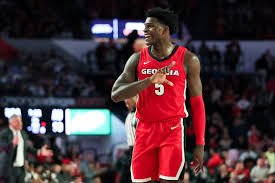 Last Wednesday, Nov. 18, the annual NBA draft was held virtually by commissioner Adam Silver. The NBA draft had previously been held in June, but due to COVID-19 pushing back the NBA season a few months longer than usual, the NBA draft took place only a month before the upcoming season. 
With the virus interfering with the original plans of meeting live for the draft, players were forced to stay at home with family to celebrate their beginnings as professional basketball players. Although some wished they had the full experience of walking onto the stage and shaking the commissioner's hand, many thought it was a blessing in disguise to experience their dreams come true with their family at home. 
For many fans all across the world, the NBA draft is one of the most highly anticipated events that goes on during the offseason of professional basketball. Although 29 out of 30 teams are in the U.S., what makes the NBA draft so special is that players can be drafted to the NBA from anywhere in the world. For those who do not know how the NBA draft works, players either graduating from college, or being recruited from teams across the globe make the decision to attempt to play professional basketball in the U.S.. The 30 NBA teams then go on to draft 60 eligible players and embrace them as  members  of their teams. 
With new players joining teams, there always comes the die hard fans who are either jazzed, or crushed by who their favorite team drafted. Others who may not be as interested in the draft, or their favorite team may also find ways to use the NBA draft as a benefit to themselves by placing bets on who might be picked by a certain team. Regardless of whether you are a manager, coach, player, fan or gambler, the NBA draft is always a highly anticipated event that many look forward to.
Author
Gage Gohl, Sports Editor
Gage Gohl is a sophomore at LHS, entering his first year on the Statesman staff as a sports editor. While not at school, you would typically find Gohl...