Pottery at LHS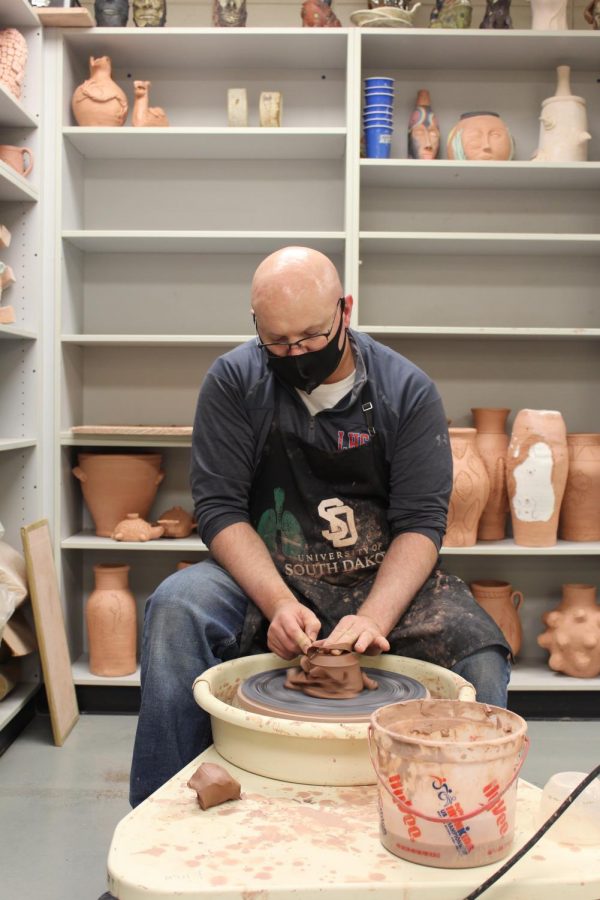 Tucked away in the back corner of the basement in E-wing one could find a hidden gem of a pottery studio run by Travis Hinton, one of the four art teachers at LHS. 
Hinton teaches Exploring Visual Arts, 3-D design, Construction one and two and Independent studios one, two, three, and four. What sets his art studio apart from the other LHS art studios is its ceramic-based tools ranging from a kiln to a potter's wheel. 
"Pottery focused classes are really enjoyable. It's a wonderful experience students get and maybe one of the only times students are able to do this," said Hinton. "You can paint and draw later on in life but we have the facilities and equipment to use clay here that are difficult to gain access to later on in life." 
What some may not realize is that Hinton's career as an educator is a supplement to his true career as an artist. On average he has 15-20 pieces that he is continuously working on at his own studio on top of working on ceramic pieces in the classroom. 
"My art means everything to me. If I am not creating something, I feel like I am not doing my part. That I am not enough," said Hinton. 
His career as an artist began his junior year of high school in a pottery studio similar to the studio available at LHS. 
"My father is an artist, a realistic painter. I would watch him paint when I was younger. I admire his attention to detail but it wasn't something that I want to emulate. I was told when I was in elementary school that I was good at drawing, but I thought it was because my father was known for his art. At that age, I thought my art skills were average. I would sketch and doodle on notebooks but nothing serious until my final years of high school," said Hinton. "I needed a fine arts credit to graduate so I took an intro to art class. Connected to this room was the pottery studio, and I wanted to try it. Watching my teacher throw a pot on the potter's wheel fascinated me. My first attempts at throwing a pot were unsuccessful but I had a feeling of serenity that I had never experienced. I still have that feeling when I am in my studio, and that is why I continue to create."
Hinton uses the endless opportunity embedded in the nature of clay and his passion for art to create unique classroom projects. One of his main goals as an art educator is to constantly keep the students on the edge of their seats in regards to their next project. 
"I'm always trying to develop or find new projects for my students. Not only for my interest but also to keep the students guessing," said Hinton. "I don't want this class to become predictable. I want to try something new and original every time, which sometimes becomes difficult."
In modern-day society, art and the artist itself play a focal role in expression as both the creator and the consumer. As a local artist, Hinton dives into what role he and other artists play in day-to-day life. 
"The media that I work with is clay. I focus primarily on functional forms. I make things that no one needs. You can go to any department store and buy what I make for the fraction of the cost. But to me when a person buys artwork from the actual artist it's because they hopefully have a deeper appreciation of the work and want something different and unique. Our goal as artists is to express ourselves but also give others as buyers an opportunity to express themselves too; whether that be a door in their house, the clothing they wear or anything else. Artwork can also be used as a platform for political statements, which has been evident recently. The artist's role in society is to communicate through visual aspects," said Hinton.
The pottery studio and art department at LHS offers a wide range of media and unique opportunities for students to express themselves. For those considering taking a pottery or art class in general remember to take the required prerequisites and come with an open mind because anyone can do it. 
Author
Abbie DeKramer, News Editor
Abbie DeKramer is a Senior and second year staff writer for the Statesman; she enjoys writing opinion pieces and news articles. Aside from writing for...