'Cobra Kai:' The Karate Kid revamp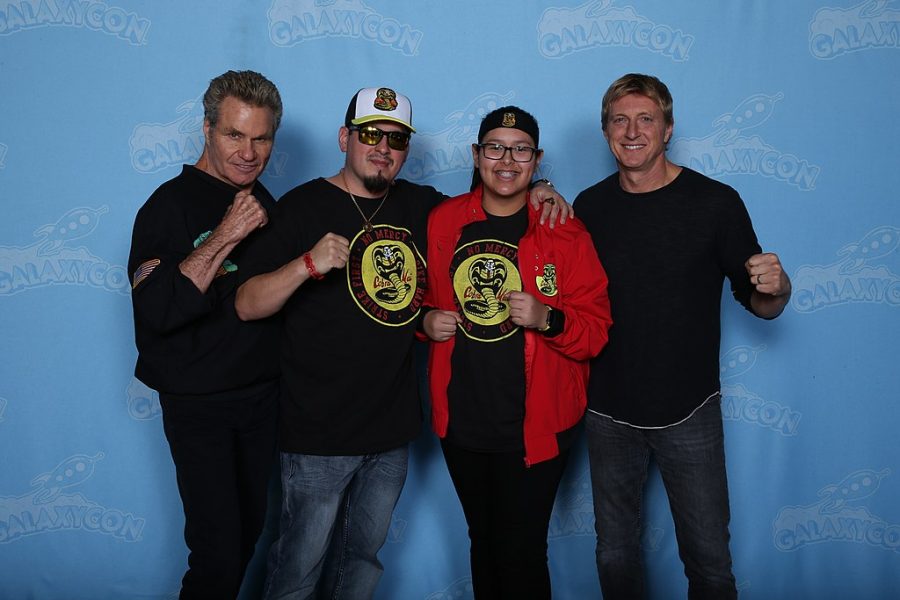 Any hit tv show, movie or series that engaged a large audience is likely to reappear in a reimagined state, years later. For example, "Boy Meets World" turned into "Girl Meets World." "A Star is Born," (1937) turned into "A Star is Born" (2018). Disney movies, such as "The Lion King," have been updated and modernized time and time again. But, fans of the movie "Karate Kid," were not expecting a twist such as "Cobra Kai," to dazzle them in the same way the original movies did.  
After 34 years, producers and actors featured in "The Karate Kid" made the decision to reinstate their hit production in a new way. The TV series, "Cobra Kai," touches on Johnny Lawrence's decision to reopen the Cobra Kai karate dojo. This of course, leads to his enemy, Daniel LaRusso, becoming a key element of the series, touching on their rivalry. 
With more than 50 million viewers in the first month of the TV series release, Netflix has deemed "Cobra Kai" as one of its most successful ad-ons of 2020. 
"Per The Hollywood Reporter, the karate drama was reportedly viewed by 50 million accounts in its first 28 days, going by Netflix's rather specific rating system," said Mae Abdulbaki, writer for the CinemaBlend. 
With its first two seasons drawing great attention to the streaming platform, it is not surprising that the show was renewed for a third season, which released on Jan. 1st. Thus far, season 3 has received high praises. 
"Cobra Kai's third season is receiving highly positive reviews. The rating of this martial arts series at review aggregation site Rotten Tomatoes is an impressive 97 percent," said the Entertainment Desk at The Indian Express.
Better yet, the hit show was renewed for a fourth season after the first two displayed an impressive audience gathering. The decision came well before the release date of the third season, as Netflix anticipated the large surge in viewership. 
"Cobra Kai Season 4 has already been ordered by Netflix, with the announcement coming months before the current season was released and went straight to the top of the Netflix charts around the world," said Samuel Spencer, writer for Newsweek. "So far, a release date for the next set of episodes has not been announced, but production on the former YouTube show looks set to kick off very soon." 
As expected, fans are raving about the newly released episodes (10 have been released for season three). With such a small amount of episodes airing in each season, many fans have completed the third, in only the first few days of January. Reviews have begun to hit the internet, and a large majority are singing its praises. 
"If you enjoyed the first two seasons of 'Cobra Kai,' you'll fall head over heels in love with Season 3," said Josh Sorokach in an interview with The Decider. 
Regardless of the audience engagement, everything is up in the air. With Netflix removing hit shows such as "The Office," and "Gossip Girl," there is so much unknown. 
"With Netflix canceling several of its original shows lately (including ones that were already renewed)…Just because 'Cobra Kai' has already been renewed for Season 4 doesn't necessarily mean it's safe, considering all of the pandemic-related cancellations that have been happening this year," said Mae Abdulbaki, writer for CinemaBlend. 
That being said, if "Cobra Kai" sparked an interest, get to watching now! Weekend plans were just made! 30 episodes… roughly 900 minutes. Doable right?
Author
Alexis Miller, Feature Editor
Alexis Miller is a senior at LHS and a second-year writer for the Statesman. This year, she has been given the opportunity to learn and grow with the title,...