Hughes and Robinson look forward to the future with college commitments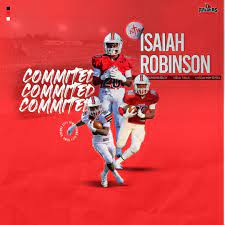 As the end of the year approaches, seniors are faced with the task of deciding their future. Payton Hughes and Isaiah Robinson have decided to dedicate the next chapter of their lives to their athletic careers, both committing to play sports in college. 
Both students have worked tirelessly over the years in preparation for their athletic careers ensuring their collegiate careers will be successful. The two greatly look forward to the time they will spend working and playing hard at Northwestern College in Orange City, Iowa and Northern State University in Aberdeen, South Dakota.
For Robinson, committing was all about finding the right place for himself, somewhere he would be proud to call home. He gave guidance to those looking to commit also.
"First thing I would tell people looking to commit is to take your time," said Robinson. "No need to rush, make sure you obviously take at least one visit. During my whole recruiting process I knew I was either going to attend NW, Morningside or Bemidji State. Just find a place that's going to make you a better person, somewhere you will be proud to say that you're an alumni!"
Robinson reflects on time spent at LHS, preparing himself to get ready for his promising future in both football and track.
"I haven't changed the way I work out, lift condition, etc. to prepare. I still do everything the same way I have," said Robinson. "I'm very grateful that I had the opportunity to be a part of the Lincoln football team and be around the staff and my teammates. I've learned a lot in these past two years at LHS. I don't think anyone has ever been prepared for college sports but I know that the people I surround myself with are going to have me ready."
Hughes enjoyed his recruitment process immensely, remembering all the reasons that made him want to commit to Northern State.
"I'd say the whole recruiting process was fun and I basically already knew where I was going to, so the best part was calling the head coach and telling him I was going there," said Hughes. "I went on an official visit and they showed me their new stadium they're building and the coaches were really nice the whole day. Then at the end of the day at the hotel I played Madden against them which was super fun, then after that, the coaches continued to stay in contact a few times a week and truly cared how I was doing."
However exciting the recruiting process was, Hughes looks to next year as an opportunity for excellence in both his academics and athletic career.
"I am playing football and baseball at Northern so I really just have to be paying attention to how I manage my time with school," said Hughes. "I might have to miss some 'college student' experiences but I'll live."
For those looking to become a collegiate athlete, Hughes gives the advice of trusting the process and allowing yourself to make the right decision to ensure a fruitful college committing experience.
"I would just take your time to figure out the right place," said Hughes. "Trust in God and he will place you in the right place."