Netflix adapts French action-packed drama 'Lupin'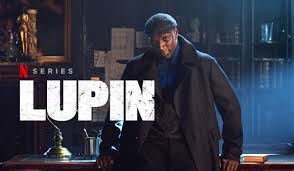 In the midst of a global pandemic with many of us surfacing in and out of quarantine, day-to-day life may seem a bit mundane. In order to spice things up, many have turned to TV as a source of diversion. Now more than ever, shows with adventurous story lines have taken up popularity. Full of sleights of hand and unexplainable disappearing acts, Netflix's newest thriller, "Lupin," is a riff of a classic "Mission Impossible" heist.
This classic French series focuses on the role of Assane Diop (Omar Sy), who works as a janitor in the Louvre Museum. Struggling to make ends meet for his son and the estranged mother of his child, Diop hatches the ultimate burglary to obtain a priceless necklace.
The plot traverses back and forth through time, almost as if it is part of Diop's memory, to tell the story of his father being framed for stealing the same necklace decades earlier from the wealthy family he worked for. Consequent to hearing of his father's demise in prison, Diop uses the plots from a book his father gave him as a child, "Arsene Lupin: Gentleman Burglar," as guidance to enact justice for his family. With a vengeful motive right down to the target of an expensive necklace, the storyline of "Lupin" is extremely similar to that of "Oceans 8," excluding the comedy present in the latter. 
The story was originally intended for French audiences; therefore when Netflix adapted it, they changed all the audio to be in English. Admittedly, this is not the worst lip-dub I have ever seen, however, the English imported audio over the French version does hinder the experience a little bit. In addition to that, there are several hiccups that play out over the course of the jewel heist that make the first episode seem to lack an air of professionalism. For instance, when one of Diop's accomplices uses a chloroform spray to stun the security guards in the museum, nothing comes out, even though the bottle is clearly full, and he is forced to use a heavy object to knock them unconscious. This happens on three different occasions throughout the course of the first episode, leaving the viewers in confusion as even more parts of their elaborate plan seem to go foolishly wrong.
Upon watching the first episode, "Lupin" did not exactly pull me in; however, that is not to say that I would not give it a second shot. For those entranced by this adaptation of a familiar mystery, Netflix has confirmed renewal for part two of season one on Jan. 28, with its actual air date on Netflix expected in the next couple months.
Author
Madeleine Kemper, Editor-in-Chief
Madeleine Kemper is a senior at LHS. She is a second-year staff member and serves as one of five Editor-in-Chiefs for the Statesman. Along with writing...