Supreme study spots for students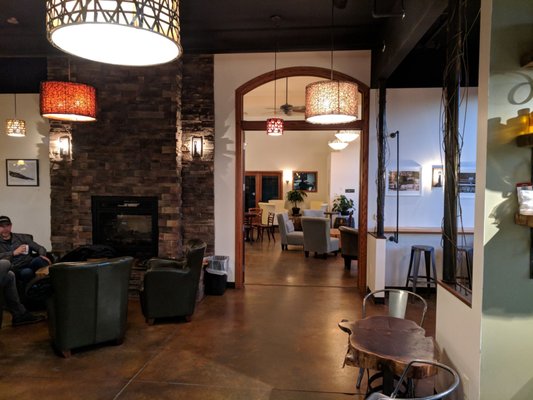 There is no scarcity of stress and homework for teenagers, and many struggle to have enough concentration and drive to get it all done.  For students who juggle a range of classes, from AP Physics to Algebra I, the weekends can only be so much fun with the mountain of homework that needs to be completed. 
Although doing homework may not seem ideal, spending time working on homework with friends can be one of the best ways to create a new study environment and increase productivity. However, over the past few crazy months, getting together to study has seemed like more of a struggle than ever. 
Whether it be social distancing rules or businesses being closed, finding new places to study has become a challenge. Never fear, here are some of the best places in Sioux Falls to study right now. 
Coffea
Walking into Coffea, you are greeted with baristas who always have a bright expression on their faces, people working hard and others catching up over a cup of coffee. In terms of studying, many people take advantage of Coffea's open floor plan. During the day, there are various sources of light coming through every window and even at night it is very well lit which helps foster higher productivity at any time of the day. Also, with its open floor plan and so many different areas to sit, the noise level is very manageable to study amid. 
tre Ministries
When in search of a location that allows for quiet, solo or small group studies, tre Ministries is a great choice. They offer four unique, soundproof rooms that are free to use for students. The rooms include whiteboards, large workspaces and comfy chairs which are all critical studying amenities for most teenagers. Fellow staff member, Emma Forster and I tested our studying limits during semester tests back in January. We were looking for somewhere quiet where we could be productive, and we stumbled upon tre. There we were able to finish four hours worth of studying while still being motivated and comfortable. tre is an excellent resource that not many teenagers or young adults know about. 
La Luna Cafe
The floor plan itself is very open with tall ceilings, white walls covered in art created by local artists and many windows. In addition, they have an assortment of colored chairs paired with smaller or bigger tables. Not to mention, the noise level is never too high which makes for few distractions. To fuel the mind and body, La Luna has many high-quality, unique and homemade dishes on their menu, including frappes, mochas and quesadillas. 
The Source
With large high rise wooden tables and an open floor plan, students are able to really spread out their work and still feel that sense of motivation. When at the Source, you will see people grabbing a coffee to go, catching up with an old friend or working hard just like you. The community at The Source is always so friendly and motivated that the positivity just radiates onto you. Although great during the day, students must be aware that this is more of an afternoon place to study. Starting at around four in the afternoon, the local coffee shop becomes a popular local brewery open to adults.