State Volleyball 2021: behind the scenes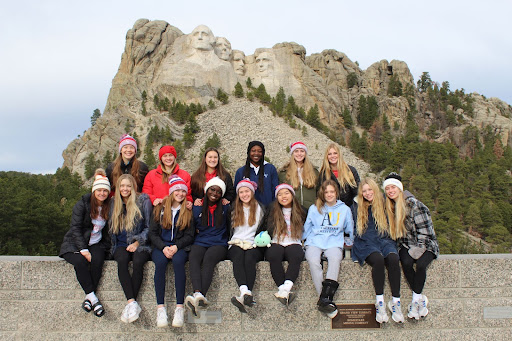 Day 1
It's 4:30 a.m. and my eyes begin to blink open as the sound of my alarm rings through my room. Trying to gather my thoughts and understand where I am and what I am doing awake so early, I remember it is State Volleyball week and my bus is leaving in an hour. As I leap out of bed and collect some last minute items into my bags, my mom calls up to my room reminding me Starbucks is a must have before I leave. In case you are wondering, my breakfast order is an iced matcha latte with two pumps of chai and the blueberry oatmeal. It is amazing. As my mom and I pull into the LHS parking lot, about 10 minutes pass before the bus comes crawling in. Soon there is a flood of parents, coaches, players and many, many bags. The next 20 minutes are a blur as we attempt to puzzle each piece of luggage into the bus accordingly. I hug my mom goodbye, find my seat on the bus and eventually I am drifting off to sleep as we begin our road to Rapid. 
The six hour drive consisted of catching up on a lot of lost sleep from the early morning wake up call, homework and nervous excitement. Prior to our business trip, we had swapped names around for our "Secret Turkey" gift exchange. The rules of  "Secret Turkey" consist of $5 gifts, clever gift deposits and each gift had to follow the four day color coordination. Wednesday-red, Thursday-white, Friday-blue and Saturday- red, white, blue in honor of the LHS colors. The gift exchange held everyone's moods at a high and helped calm some nerves. As we arrived in Chamberlain, we made a quick pit stop for some breakfast but eventually made our way back onto the bus and continued our journey. First and arguably one of the most exciting to-do's of the week was practice at The Monument. The Monument is the newly opened arena in Rapid City, S.D. where each game would be held. This practice was about 45 minutes long, and I must say, every minute held more and more excitement, appreciation and nostalgia. As a senior, these next three games would be the last high school games I'd ever play. That said, the next few days were incredibly emotional. After getting settled into the hotel, grabbing some food and enjoying a few team bonding activities, it was time to head to bed.
Day 2
Game day. First round was a fight against OGHS. A tough team with Division 1 commits including Bergen Reilly and Brogen Beck. Beginning our morning with some hotel breakfast and a quick study session, I was later met with my last ever volleyball practice as a Patriot. We had an 11 a.m. practice scheduled at RCCHS to get some reps in and finalize rotations prior to the game. Another wave of nostalgia began as the reality set in, it was time. All of our months of hard work lead to this moment. Game time. Sadly, we fell short against OGHS and our eyes were set on 5th place after being taken out in the first round. 
Day 3
After a tough loss, we had to shift our focus to a new day and new game: HHS. This was a team we had previously lost to in a five set thriller earlier in the regular season. This was a devastating loss to many of us, so we knew we had to come out strong in order to continue on to the consolation championship. We began the morning with a bus ride up to Mount Rushmore, an S.D. monument. After capturing a couple pictures and admiring the beautiful view, it was time to refocus. In typical LHS Volleyball fashion, this game was another five sets. Strongly fought, with struggles and amazing drive, we won our second game and would see Huron the next day.
Day 4
This was a tough day. Nostalgia hit the hardest on day four. My last ever game as a Patriot. The last time I would step on the court with a majority of my LHS teammates as #16. This game was a chance to go out with a bang, an opportunity to honor my school and my team one last time. It was a good one. On day four was the day we swept Huron to win the Consolation Championship and earn 5th place at State Volleyball. This win is one I am proud of. Stepping off the court for the last time, I was able to hug each one of my teammates and truly appreciate being a Patriot. After receiving our medals and 5th place plaque, the team met up with parents and fans to enjoy the moment. 
This experience will forever be a favorite of mine. Creating memories with my best friends and being able to give a proper send-off to my LHS Volleyball career is something I will forever cherish.