Exploring all-things rock: venturing out of my musical comfort zone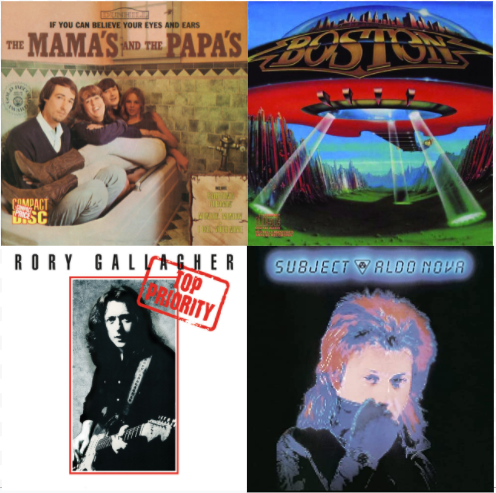 An avid listener of Pink Floyd, Fleetwood Mac and Creedence Clearwater Revival, I am no stranger to the genre of classic rock. But when it comes to artists like Boston, Rory Gallagher and Tommy Tutone, I am considerably less educated. 
I grew up surrounded by the sounds of all kinds of music from the 70s, 80s and 90s. It was not uncommon to hear classic rock playing in the garage as my dad worked on his latest project or in the kitchen as we cooked dinner. I credit this early exposure for my love of music, and the range of music I listen to. And although I consider myself to be a fan of all types of music, my prejudice against what my mind considers 'dad-like' classic rock have kept me from enjoying the genre's full range. 
To aid my lack of knowledge and hopefully open a new avenue of music-listening, I listened to a playlist, curated by Statesman Editor-in-Chief Daniel Bethke, of 11 slightly lesser-known classic rock or rock-influenced songs. I picked three of the 11 songs to review and share my thoughts on, in hopes of not only expanding my view of rock, but also to prove this genre of music truly has something for everyone. 
"Romeo and Juliet" – Dire Straits
My favorite song on the playlist, I was pleasantly surprised by the clear British influence in "Romeo and Juliet." While the song features a resonator guitar, it maintains a simple instrumental through the verses, making it easy to focus on the touching lyrics. It is reminiscent of a classic love song, but the lyrics are considerably less cheesy than might be expected from the title and it proves to be more melancholy than loving. The instrumental rises to a full rock arrangement during the chorus, with a steady drumline and a unique tambourine. "Romeo and Juliet" finds its strength in its simplicity. A slower, simpler and softer rock song with solid production, unique instrumentation and meaningful lyrics, "Romeo and Juliet" hits all the right bases. 
"Thunderbird" – Quiet Riot
Quiet Riot manages to have both a catchy bassline and impressive vocals in "Thunderbird." With harmonies and belting in both the verses and choruses, the main appeal of "Thunderbird" is definitely the vocals. However, the instrumental is not without its highlights. The drumline is certainly the most central of the instrumental elements, while the softer piano adds an interesting component, especially in combination with the more intense drum kit. Featuring a beautiful guitar solo near the end of the song, "Thunderbird," if nothing else, exhibits Quiet Riot's range of talents well. And while I am not sure "Thunderbird" will be featured on any of my future playlists, it is an enjoyable song which gave me a great deal of respect for its artist. 
"Feelin' Satisfied" – Boston
A song further from my comfort zone, "Feelin' Satisfied" feels exactly like what many would think of as classic rock or even better, rock'n'roll. An 'arena' style song, as many by Boston are, "Feelin' Satisfied" features many crowd-like features, such as claps and production that makes it feel as though one is truly listening to the song in an arena. The lyrics are heavy with repetition and are not particularly meaningful, leaving most of the focus on the bassline. And although the beat is catchy, it is not especially unique or show-stopping. While the song has its upsides, and I can see the appeal of the rock'n'roll anthem style song, "Feelin' Satisfied" is not a song I would add to my own playlist or seek to listen to again. 
Full Playlist:
California Dreamin' – The Mamas & The Papas
Feelin' Satisfied – Boston
Philby – Rory Gallagher
Monkey on Your Back – Aldo Nova
Romeo and Juliet – Dire Straits
Higher Love – Steve Winwood
Steal Away – Tommy Tutone
Oldest Story in the World – The Plimsouls
Thunderbird – Quiet Riot
Man on the Silver Mountain – Rainbow
Magic Man – Heart