From YouTuber to CEO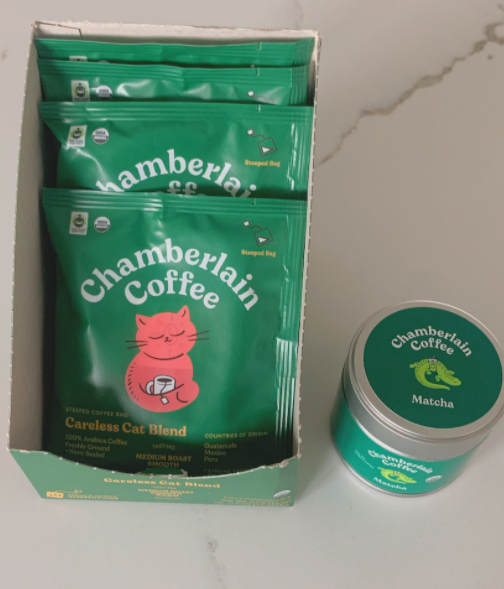 This popular internet sensation went from a quirky teen posting relatable youtube videos all the way to creating a tremendously successful career for herself. Her name is Emma Chamberlain. Most will recognize her from the popular app, YouTube. This is where it all began.
 Emma began posting YouTube videos as an average high schooler back in 2017. Since then, the now 20 year old has grown a massive following on all social media, started her own podcast "Anything goes", was a brand ambassador for BadHabit beauty, announced as the face of Louis Vuitton's fall-winter 2021 shoe collection, created her own coffee company "Chamberlain Coffee" and much more. Needless to say, she is one hardworking individual, and the work shows. 
Although there is so much that could be highlighted, today's focus is solely on her coffee company, Chamberlain Coffee. Chamberlain began her company back in 2019. She is known for her obsession with coffee (specifically iced almond milk lattes), so it was nothing out of the norm when she announced Chamberlain Coffee. She wanted to create the company to be something extra special.
"It's more than a drink. It's a way to connect. It's a way to share moments," said Chamberlain. The coffee is freshly roasted, made with sustainable packaging and has zero pesticides.  
Everyone has their specific preferences when it comes to coffee, and Chamberlain was well aware of this when she created the company. She knows that everyone brews differently, drinks it at various times and prefers a different type of roast. All these aspects are taken into account with the flavor quiz. Chamberlain Coffee offers a flavor quiz on their website. It ensures each customer gets the perfect coffee for them. The flavors include, social dog blend, careless cat blend, early bird blend, night owl bend, family blend and sleepy sloth decaf blend. There is an in depth description of each one on the Chamberlaine Coffee website.
The coffee is sold as cold brew, brew bags and cold brew single serve packs. Not only is coffee available for sale, but she even has matcha and hot chocolate in order to please everyone. " We know that your favorite daily drink is more than just a drink," said Chamberlain. Last but not least, there are also accessories such as cups, straws, a french press and a milk frother available for purchase.   
Chamberlain has become an outlet for so many through her presence on the internet. Her coffee company is just one more way for people to feel a little more connected to her. Wait no more, go out and support Chamberlain by purchasing something from Chamberlain Coffee!