LHS light bulb moments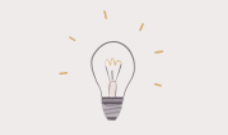 A moment of sudden realization, enlightenment or inspiration is also known as a light bulb moment. Everyone has had one of those moments, where they realize they have been doing and or saying something incorrectly for their whole lives. Maybe it is funny, embarrassing or maybe it is even extremely insightful, and allows a person to find a more straightforward and effortless way of doing something. For example, the saying is "you've got another 'think' coming" — not "you've got another 'thing' coming". 
Here are a few examples of fellow LHS students' light bulb moments. 
"In middle school I actually thought Helen Keller and Anne Frank were the same person, for some reason, until I learned Anne Frank was not blind, and I was shocked because they are different people."
"It took me 15 years to figure out that if something is your favorite thing…it is because you favor it…15 years."
"If we're talking metaphorically, a huge lightbulb moment was when I realized in Taylor Swift's hit song, "Blank Space" that the words were not "Starbucks lovers" but "ex-lovers."
"I had a lightbulb moment recently where I figured out that the saying 'pitch black' comes from the fact that pitch is another name for tar, and tar is extremely dark black. So basically, every time you say "pitch black," you're just saying "black black."
"I freshly turned 18 and went to get air in my tires. A lady walked up asking for a ride home (I didn't know this lady) but I said sure because she told me that her car had broken down, and I felt bad for her. I realized after dropping her off that that is how students/kids get kidnapped."