Tiny treasures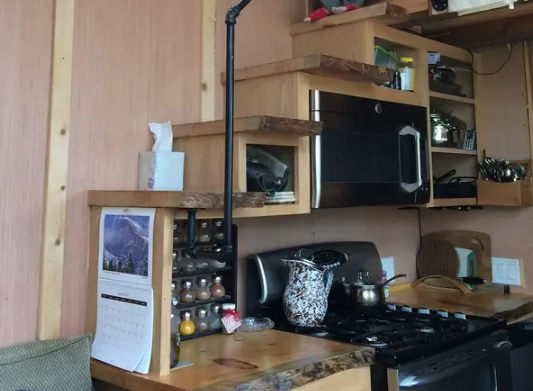 Picture this, it is a hot July day with a high of 95 degrees. The day has been spent frying precious skin under the sun and splashing in the lake. As the day winds to a close, the sun has set and hot dogs have been gobbled down, a busy family of five has all cramped tightly into a compact camper. Now imagine this, they do not just come here after glorious sunny lake days, but rather everyday. To them, this little space is not such a camper as it is their home: a tiny home.
The average tiny home is somewhere between 225 and 600 square feet. In other words, "roughly eight times smaller than a typical home," said CNBC. Needless to say, living in a tiny home is a huge commitment. Kathrina and Forest Jones decided to take on this challenge, and even step it up a level. They moved into a 300 square foot home along with their three children. It has now been five years since they made this miraculous decision to downsize. This family of five (Kathrina, Forest, and their children Elizabeth, 9; William, 7; and David, 4) all share only two bedrooms and one bathroom. Although this may seem unfathomable to some, they seem to have adjusted quite well. 
After starting their family in a traditional red-brick home, the Jones family decided to move into a tiny home. This decision was made in order to allow for more travel time, and to provide Kathrina with the opportunity to stay home with the kids. "It was a no-brainer, we had to figure out how to do it and then really do it," said Kathrina. Plans for their new home began to be made while Kathrina was pregnant with their youngest child, and the couple customized the home to fit their desired lifestyle. In total, "it took a year and $24,000 to build their future home," said Insider. Once completed, the home was stationed in California. 
Inside, the Jones family maximized the space to the best of their ability. With the majority of the walls and countertops made of wood, the kitchen consists of a full-sized stove, microwave and sink. The house also has a wall covered in windows to open up the space and bring in natural light. In addition to the kitchen, there is a small living space that holds a couch and a table. Kathrina and Forest sleep in the loft above the kitchen, and the children spend their nights in a loft above the living room. "They climb the ladder up to their bed, and [the kids say] it is like living in a treehouse," said Kathrina. 
Despite the lack of space, the family has found many ways around it. Storage can be found tucked into nearly every available crevice the house offers. The family has even managed to host a 12 person dinner party. This family has defied the odds and managed to make a tiny living space terrific!