Bidding for breast cancer awareness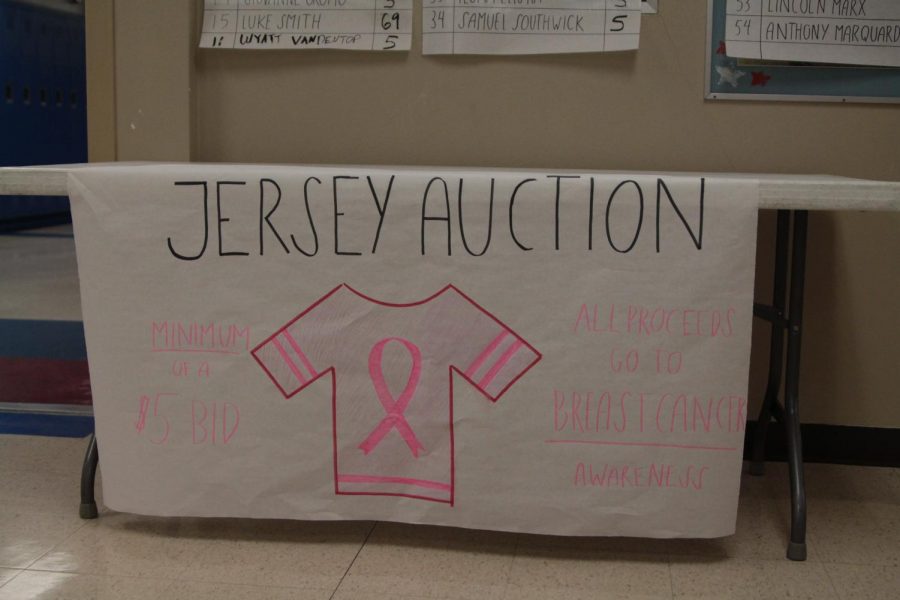 As pink ribbons sweep across the world in honor of Breast Cancer Awareness Month, the LHS Student Council is providing its own answer to the annual campaign: a jersey bidding, from which the proceeds will be donated to the Avera Cancer Institute in Sioux Falls to breast cancer awareness.
From Monday, Oct. 21 to Wednesday, Oct. 23, students were able to bid on football players' jerseys, both to wear the jerseys during the next game day and to support breast cancer awareness. Outside the library, bidders watched as bids climbed a steep incline from the minimum bid of $5 to upwards of $100. Seniors Mitchal Eihacker and Isaac Sarbacker's jerseys ended at a bids of $101 and $69, respectively, and juniors Payton Hughes and Luke Smith at $70 and $69, respectively. From the 89 jerseys that were up for auction, the Student Council raised a total sum of $1,012 for donation.
"We know that a lot of people, a lot of women, battle with this disease, so why not give to a local organization that we know that good things can be done with it?" said Student Council adviser Jennifer Dubois.
The last time that Student Council held a jersey bidding for breast cancer awareness was in 2016, but the success of the football team and the urging of the student body for a jersey auction this year prompted them to bring the tradition back. 
"We got the idea at a Student Council conference that I went to years ago," said Dubois. "The jersey auction is something that we've done off and on… The football season is really exciting this year, and they're doing really well, and we know when there's winning going on, there's a lot of excitement, so we just want to draw from the excitement of the football team and what's going on there, and continue on with maybe providing to a good cause."
Senior Student Council member Noah Johnson hopes that the jersey bidding tradition will continue to be a prominent part of the LHS experience.
"I think that a lot of people have had family members who have gone through breast cancer, who have passed away and who have gone through it, so I think it's good to spread awareness, it's good to fight for a cause and it's fun," said Johnson.
Author
Cathleen Weng, Editor-in-Chief
Cathleen Weng is a senior at LHS. As a third-year staff member of the Statesman, she has served in such roles as News Editor and one of four Co-Editor-in-Chiefs,...
Genna Sheriff, Editor-in-Chief
Genna Sheriff is a senior at LHS and one of four Co-Editors-in-Chief of the Statesman. Along with writing for the Statesman, she is involved in other activities...