Murphy Mentors to the rescue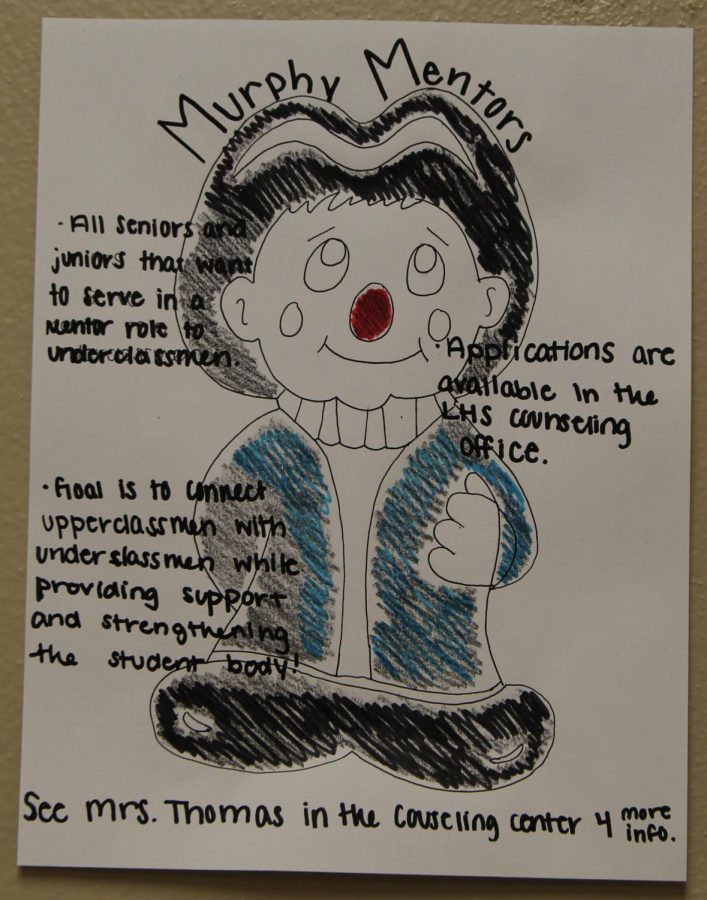 Within the last month, LHS has added a new opportunity for students to make connections and reach their full potential.
Murphy Mentors aims to create a safe environment for students to create new relationships and receive guidance from those who have gone through the same tribulations in their early years at LHS. Everyone has gone through the adjustment of middle school to high school; it's pretty darn hard. For some, the most difficult part of high school is the shift from freshman year to sophomore year. When the change in responsibility, emotions and class load becomes overwhelming, a Murphy Mentor will be called to the rescue. 
"This program has several goals: trying to connect upperclassmen with underclassmen, strengthen [the] student body, build community, enact positive peer support and build relationships," said Becky Thomas, the creator of Murphy Mentors. "A lot of students report that they themselves did struggle in their early years at LHS so this would be an opportunity to help ease the transition so incoming students don't have the same struggles." 
One of the most interesting facts about Murphy Mentors is that it is not just about academics. This is a chance for students who feel alone or just not comfortable in their daily routines at school to seek advice and friendship from someone who had been in a similar situation. The Murphy Mentors programs finds leaders at LHS and utilizes their skills to help students struggling in diverse areas.
To make this program more comfortable for the mentees there will be a pairing process based on interest level and other common factors.   
"[Underclassmen are found by] a list of recommendations from the Freshman Academy, counselors and sometimes parents," said Thomas. 
These recommendations allow for the pairing process to be more accurate and look to what would be the most beneficial qualities for students in a mentor. 
Murphy Mentors is also a great opportunity for the leaders themselves. Leaders are able to create these activities on their own based on what they think would be best for their mentees. Then when meeting with underclassmen they are able to conduct meetings on their own with their mentees.. This program does not only offer a great opportunity for struggling underclassmen, but a leadership platform for upperclassmen to advance their people, communication and speaking skills. 
Murphy Mentors will meet during W.I.N. time twice a month with the underclassmen students in the cafeteria or the commons. The mentors themselves will meet more frequently to plan new activities with Thomas. Thomas is looking for more male leaders to join Murphy Mentors to close the gender gap.If you are interested, Thomas' room in the counseling office is open! The first meeting will be approaching on Nov. 5.
Author
Abbie DeKramer, Staff Writer
Abbie DeKramer is a junior and first year staff writer for the Statesman. Aside from writing for Statesman, DeKramer is Vice President of competition for...