Pho Thai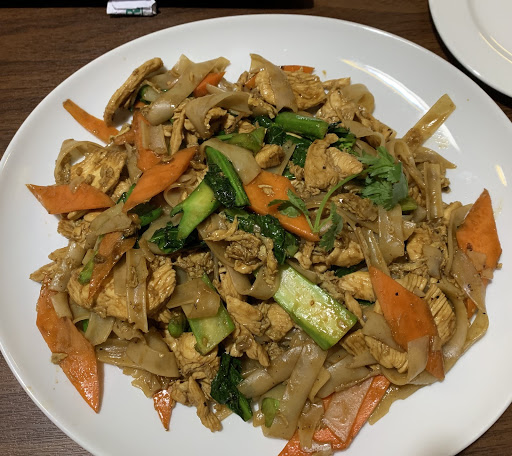 Pho Thai is a new restaurant in Sioux Falls that aims to serve as the first authentic Thai, Vietnamese and Chinese restaurant in the downtown area.
As I visited Pho Thai, I was accompanied by Rachel Overstreet and Corrin Gillespie. My first reaction to the location was inherently positive. I was greeted by cheerful workers and an array of traditional Asian scenery. We were immediately seated in the back of the restaurant, where our server met us almost instantaneously. We ordered our drinks and began browsing the menu. The menu was fixed in a leather cover with five pages filled with cuisine and specialty drinks. We were able to choose from appetizers, soups and entrees. 
We proceeded to order our appetizer of Fried GYOZA ($5.88), which is essentially six fried dumplings served with a specific sauce for the dish on a wooden plank. When we received the dumplings, they were golden brown and steaming hot.
After receiving our appetizer, we then ordered the rest of our food, which was promptly served within five to ten minutes.
Corrin is vegetarian and initially had some trouble finding an option for her, but after being informed of the tofu substitution for protein, she ordered the Tofu Pad Thai for $11.88. The dish was a large portion topped with peanuts and lime. The flavor of ginger was dominant in the dish and added to the richness of it. Overall, Corrin enjoyed her meal.
I ordered my main dish of Thai Chicken SEE EW for $11.88. It consisted of chicken, spinach, rice noodles, spinach and sauce mixed with a variety of spices. The vegetables were fresh and the rice noodles were cooked to perfection. The Thai Chicken SEE EW was an immediate favorite, and I was even able to take some home because of the portion size.
Rachel ordered the BO KHO (beef stew) for $11.88, served in a marble-like bowl. This dish was similar to beef ramen, including vegetables, beef, noodles and egg drop soup. The only comment about the dish was that the meat was a tad tough, but overall good.
While visiting Pho Thai, I do regret not trying their bubble tea. They also had Ramune and other specialty drinks that all add to the experience. Other options consist of shrimp pad Thai, Thai stir beef, Lok Lak steak with eggs and other vermicelli bowls. 
In conclusion, Pho Thai is a family-friendly restaurant with amazing service and food. With continuous re-fills and immediate service, they make the customer feel prioritized. The restaurant offers a variety of selections that appeal to anyone interested in Thai, Vietnamese and Chinese cuisine. I highly recommend checking out Pho Thai downtown at the Shriver Square building at 230 S. Phillips Ave at any time between 11 a.m. and 9:30 p.m.
Author
Abbie DeKramer, Staff Writer
Abbie DeKramer is a junior and first year staff writer for the Statesman. Aside from writing for Statesman, DeKramer is Vice President of competition for...